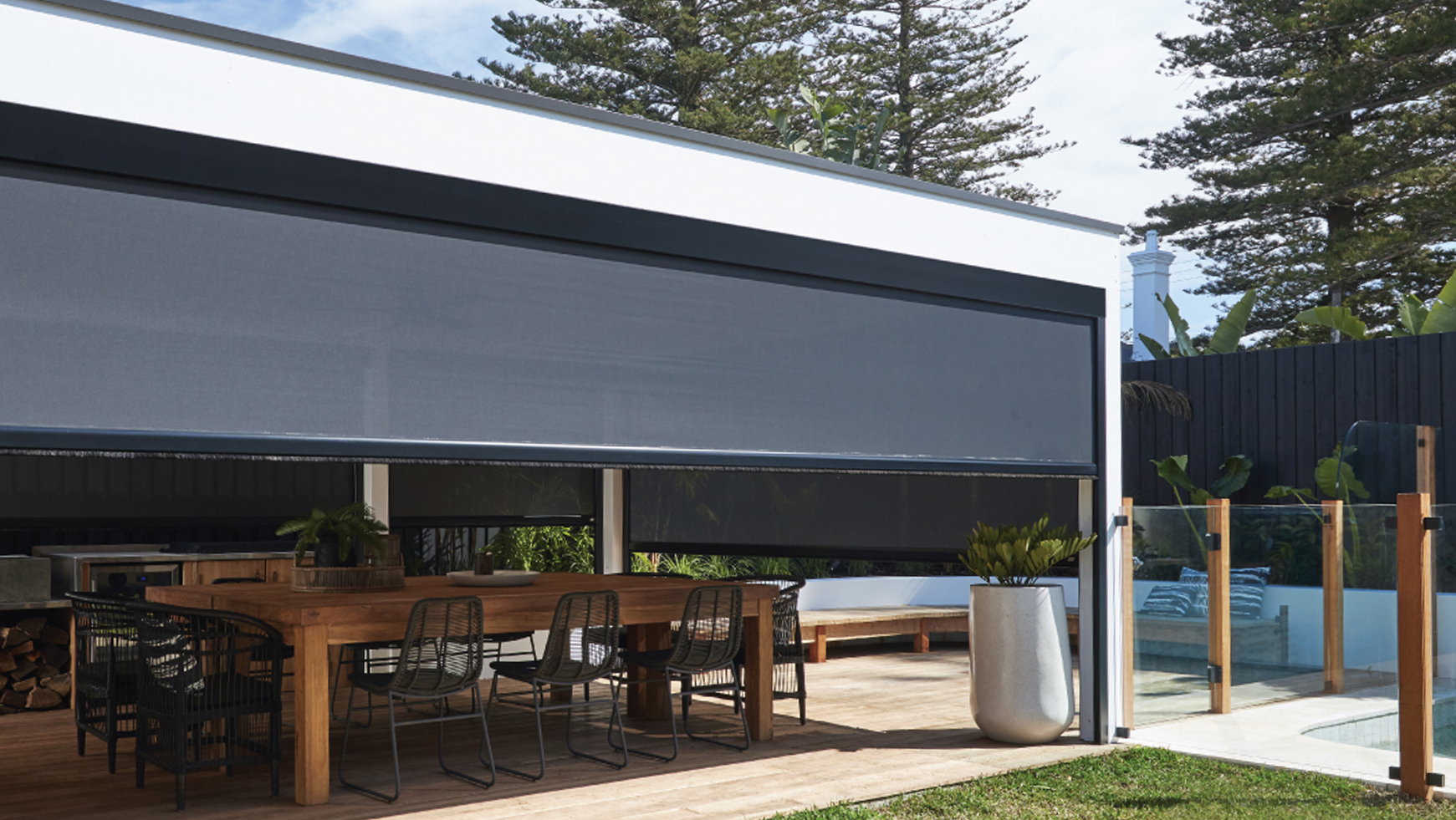 Are you looking for the ultimate straight drop awning range? Look no further. Packed full of features and with options to suit, the Weathermaster Alpha Awning range has solutions for every home and space.

An all-in-one package of design, function, UV protection, airflow control, and simple operation, all New Zealand and Australian made, explore the range, and its benefits, below.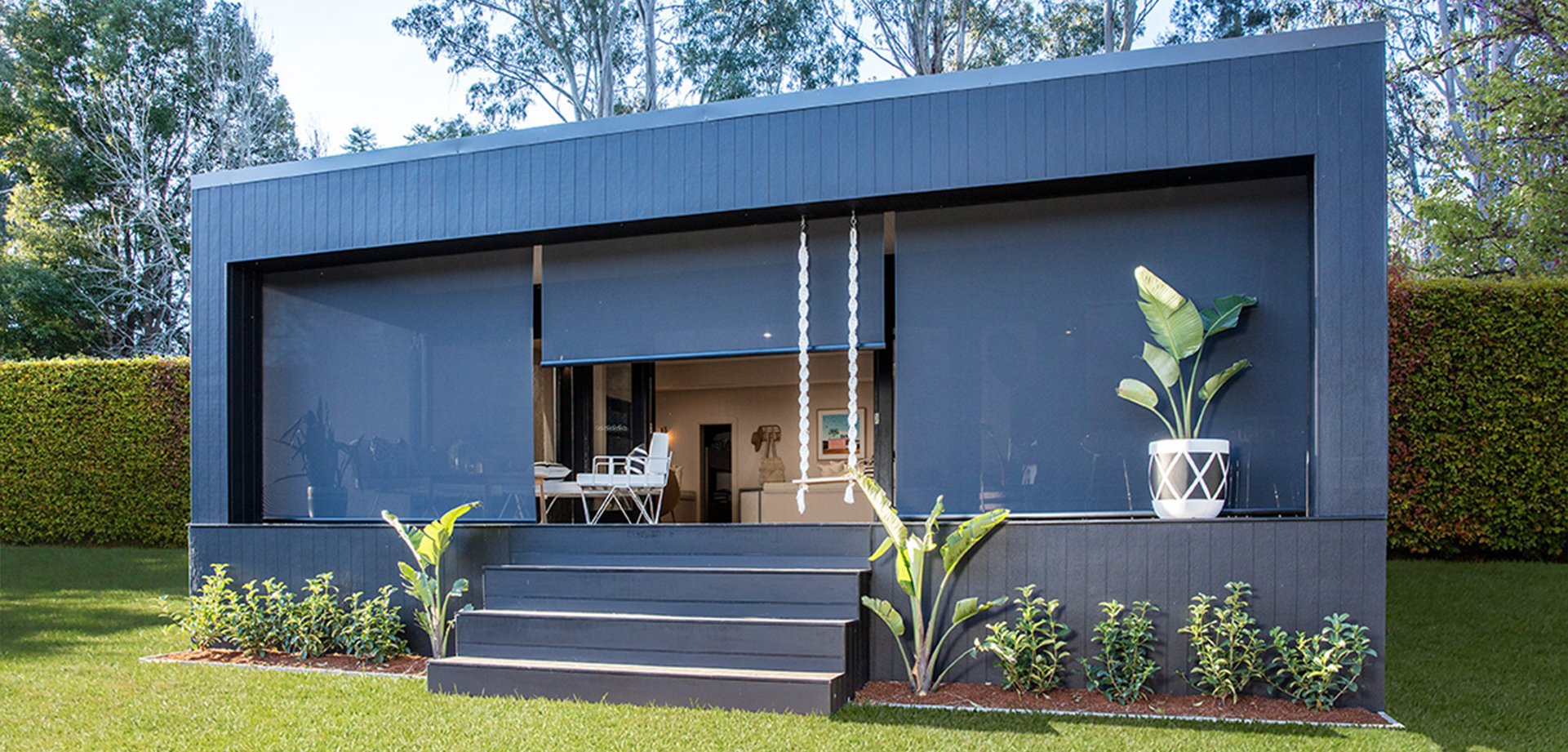 Feat. Alpha Straight Drop Sunscreen System
Five models to pick from
With the Alpha Awning range, it's never been easier to customise your coverage. With five unique models to pick from, each backed by our five-year guarantee and offering unique functionality and benefits, you can find a screen awning that perfectly fits your home and needs. Your options include:
Alpha Straight Drop Sunscreen System
Great cover at a good price; this entry-level straight drop option features a traditional design that proves to be a favourite across NZ. With the greatest installation flexibility across the range, they are the perfect choice for almost any application.
Alpha Pivot Arm Awning
Achieve the ultimate shading at the window while maintaining airflow with this unique awning system. Arms are used to project the fabric at an angle of your choosing, meaning windows can stay open.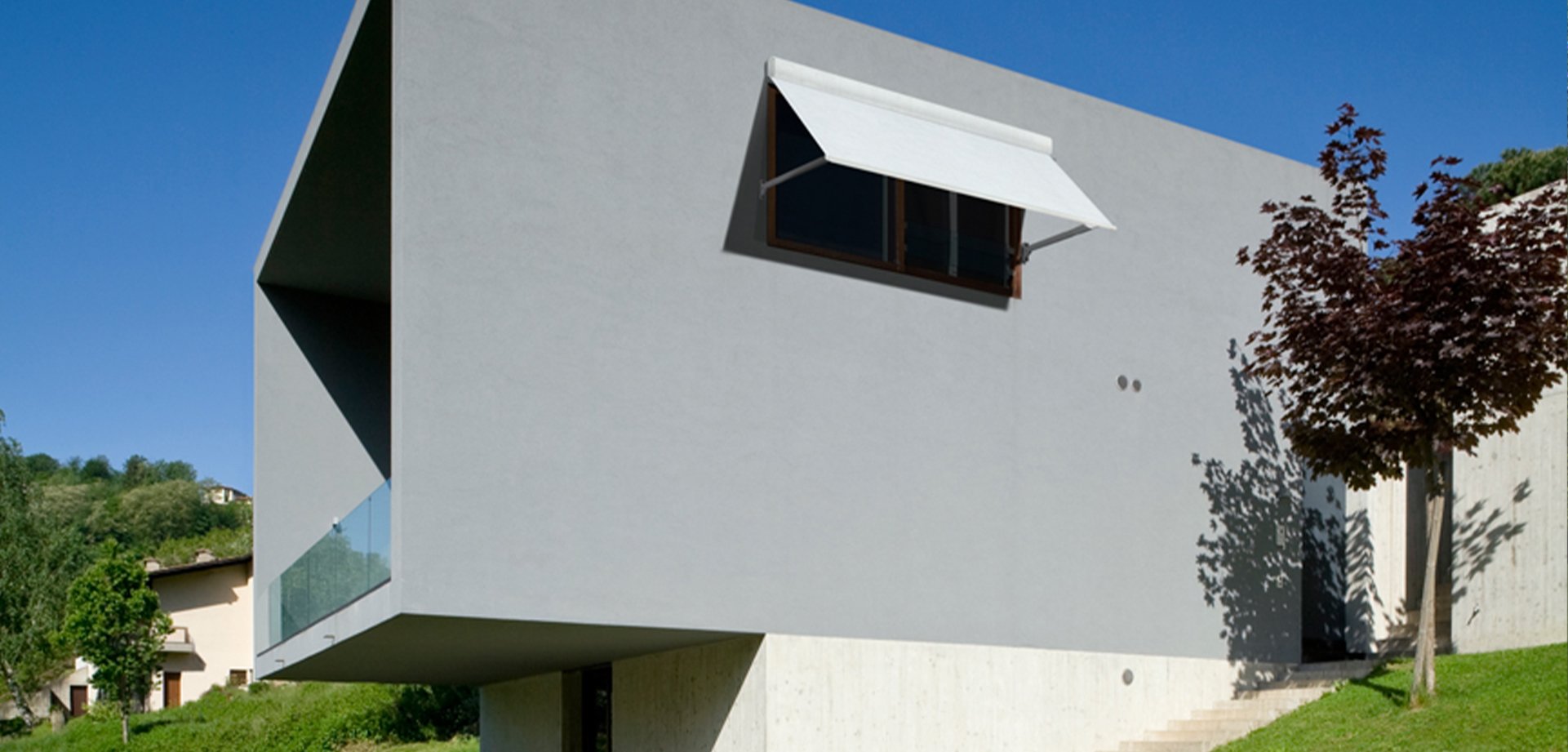 Feat. Alpha Pivot Arm Awning
Alpha Cable Sunscreen
One step up from the straight drop model, this awning features high tensile, marine-grade steel cables to keep your awning securely in place. The Alpha Cable Sunscreen is perfect for coastal homes or applications where you cannot fit channels for the Channel Sunscreen.
Alpha Channel Sunscreen
You can eliminate light gaps by securing the sunscreen fabric in a channel and fully enclose your outdoor space with an Alpha Channel Sunscreen. This option is great for all-weather controlling pesky insects, and with no hardware in sight, it makes for a clean, contemporary finish.
Alpha MagnaTrack
With unparalleled performance, Alpha MagnTrack is the most technically advanced straight drop screen on the market today, rounding out the Alpha Awning range. Harnessing the power of magnets, this awning is truly one of a kind. We recently looked at this exciting new awning and all its features in a blog here.

Feat. Alpha Cable Sunscreen
Operation made easy
Alpha Awnings offer the choice between a traditional crank control, spring-assist or motorisation. The manual crank comes as standard. Featuring a fine-tuned 9;1 gear ratio, the manual crank makes for easy operation, regardless of user strength – meaning even the kids can do it.
With larger awnings, due to their weight, the motorised operation is highly recommended. When motorised, you can operate your awning with the flick of a switch or remote control. For complete automation, you can schedule awnings to operate with Somfy® Connexoon. We offer integrated sun and wind sensors too.
Exclusive to the Alpha Channel Sunscreen, built-in spring operation offers a step up from manual crank. Allowing you to effortlessly pull down your awning to any desired height, you can then lock it in place using either the Locking Bolt or Hold Down Clip option for peace of mind in windy weather.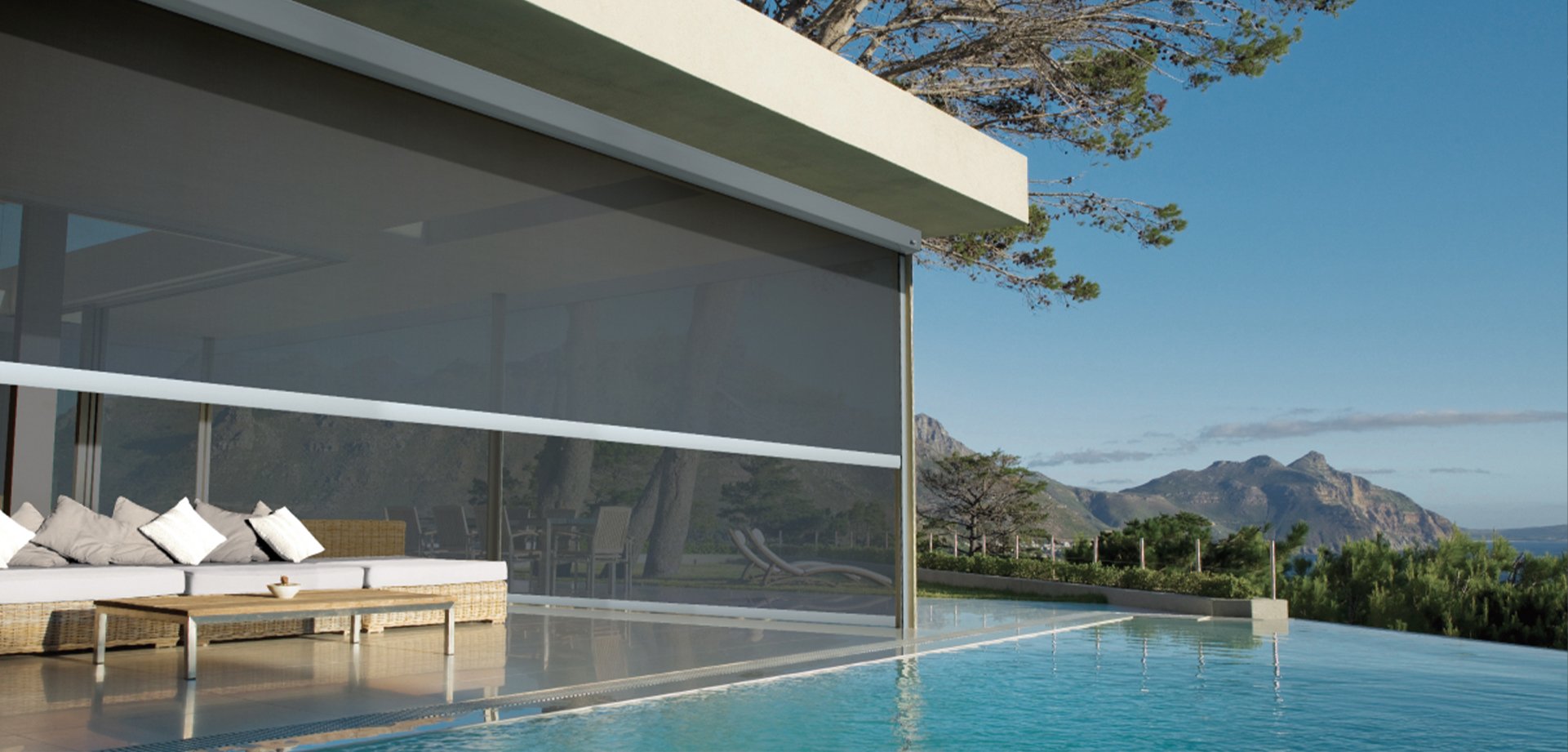 Feat. Alpha Channel Sunscreen
Tried and tested
The Alpha Awning range of awnings has been engineered to exceed stringent quality standards for peace of mind:
UV tested to ensure the colour's fastness when exposed to the damaging UV rays from the sun.
Cycle tested to replicate daily use for a minimum of 7 years.
Weight load tested to ensure the strength of all parts.
Wind load pressure tested by an authorised and respected independent organisation to determine the maximum loads the awnings can withstand before signs of distress (see table below).
| | | |
| --- | --- | --- |
| Screen system | Pressure (Pascal) | Equivalent wind speed (km/h) |
| MagnaTrack* | 2980 | 185** |
| Channel Sunscreen | 630 | 85 |
| Cable Sunscreen | 225 | 67 |
| Straight Drop Sunscreen | 225 | 67 |
These results are based on 3300 x 2450 mm external screen size. * From a static wind test on a 3500 mm wide screen. ** Up to 89 km/h on a 6.5 m width. We recommend Alpha Awnings be retracted in windy conditions to avoid the potential for damage.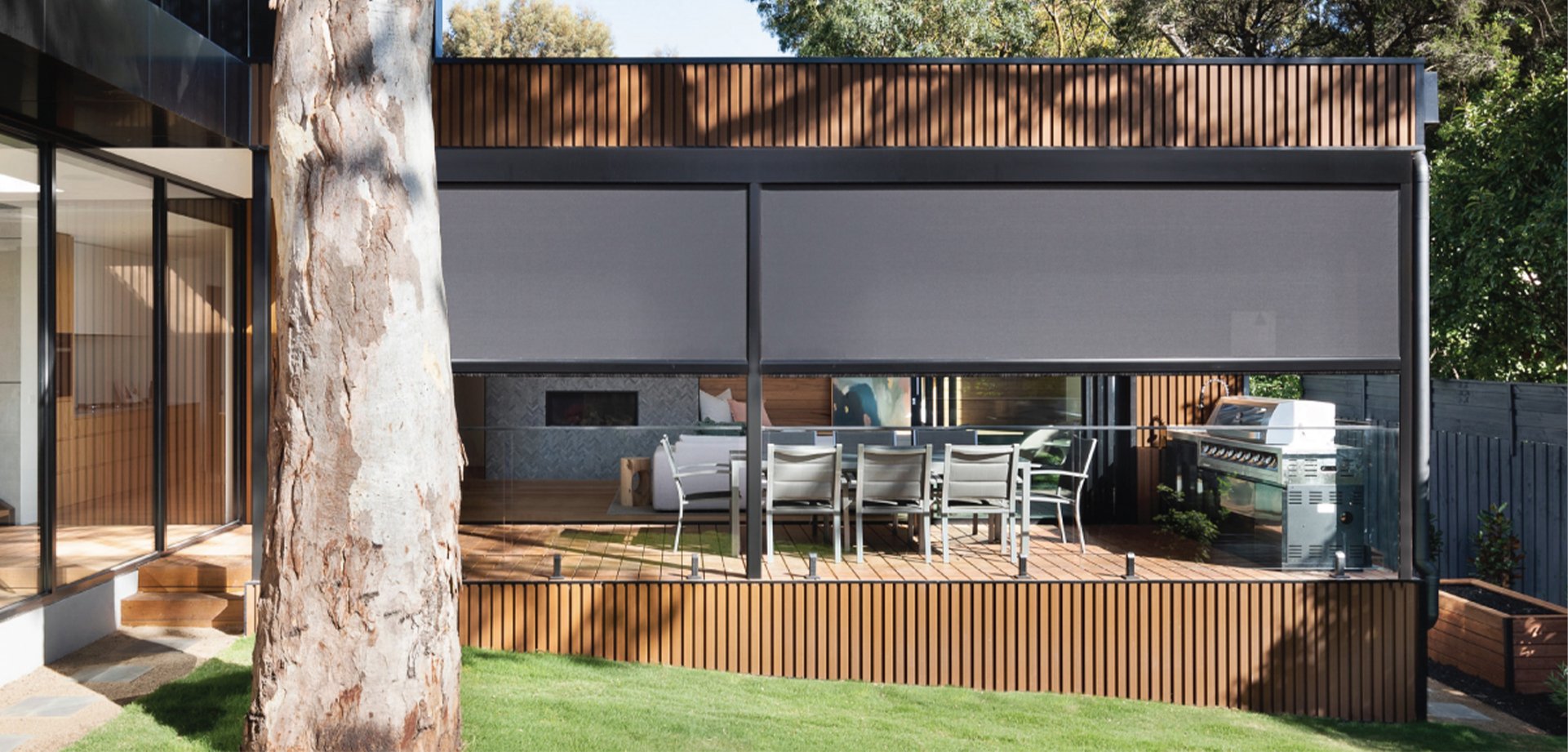 Feat. Alpha MangaTrack
Impressive design and customisation
While providing much-needed privacy and sun protection, Alpha Awnings also add a stylish and contemporary outdoor finish to your home, especially where space is at a premium.
The sleek design and wide choice of fabrics make these awnings particularly suited to modern open-plan living areas, allowing sun and light in during the day and privacy and darkness during the evening or when you are not at home.
With hundreds of colour and fabric pairings, contemporary hardware colour choices, options for customised powder-coating, and headbox options, you can design an awning that perfectly matches your vision.
Alpha MagnaTrack hardware colour options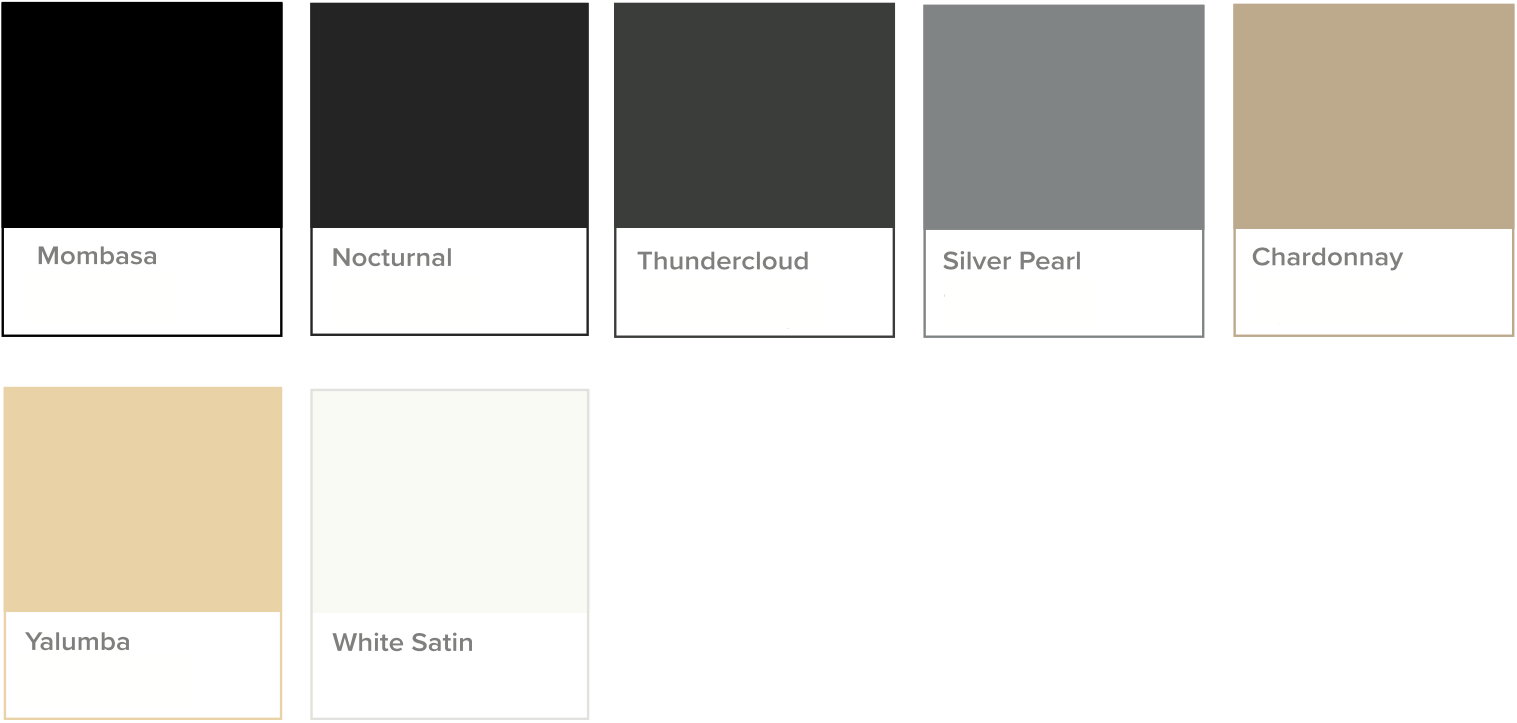 NOTE: Colours are indicative. Custom powder coat option not available.

Standard Alpha hardware colour options


NOTE: Colours are indicative. Custom powder coat option available.
Awning security
With optional locking bolts and hold-down straps, the Alpha External Screen System makes it easy to hold the fabric secure between channels while minimising any bottom rail movement in windy situations.
Locking bolts can be installed at both ends of an Alpha Awnings bottom rail. These can be extended and inserted into a reveal/post situation or slid under a breeching staple on the ground.
Hold-down straps can be placed anywhere across the width of the awnings bottom rail, securing the awning at points that best suits your application.
Find out more or ask for a free quote
Do you want to know more about any of the unique Alpha Awning features we have discussed above? Your friendly local Weathermaster team is here to help. Offering FREE measures, quotes and advice, you can find your nearest dealer and their details at the link below.