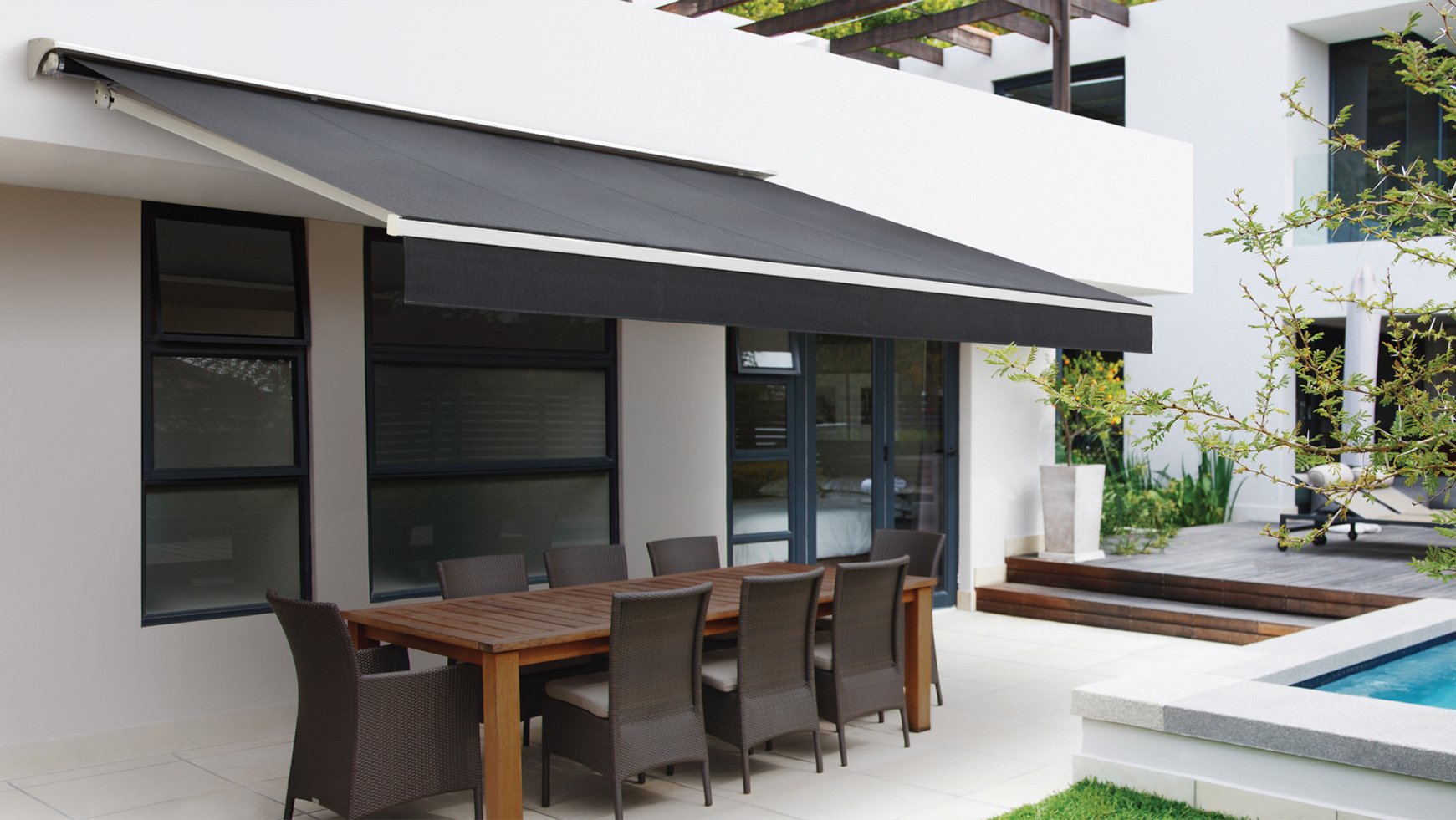 The Kona Awnings range by Weathermaster offers a perfect awning for every situation.

Custom-made right here in NZ to fit your home, innovative heavy-duty Kona Awnings offer unparalleled performance and function under the sun. The perfect shade to help protect you from the sun and enjoy your outdoors, we explore what makes Kona Awnings a Kiwi favourite below.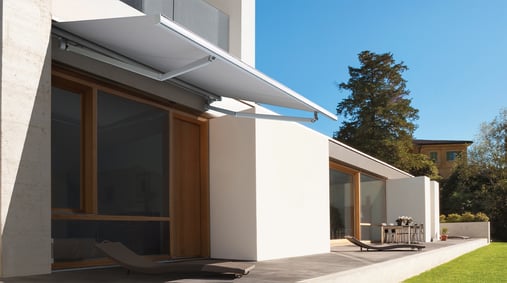 Feat. Kona Design with silver hardware.
Five models to pick from
The Kona Awning range makes it easy to customise your coverage, offering five different models to pick from, each backed by our five-year guarantee. In addition, our Kona models offer customisable choices for every home and customer with various widths, projections, and unique functionality.

From the Kona Rise, which provides better doorway clearance, to the unique Kona Cross-Over that offers maximum projection from the narrowest of awnings, the Kona Awning range means it's never been easier to customise your coverage. See all the models here >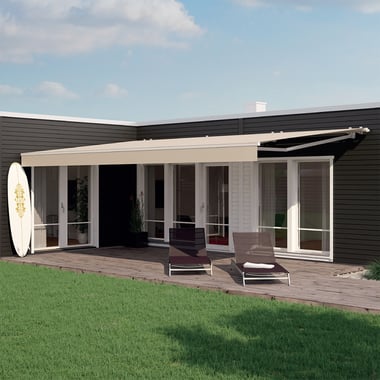 Span up to 7m with a Kona Classic awning.
Straightforward operation
Easy to operate, Kona Awnings offer the choice between a traditional crank control or motorisation. The manual crank ratio is fine-tuned for a faster operation that's easier to use, even on spans up to seven metres wide.

With larger awnings, due to their weight, the motorised operation is highly recommended. When motorised, you can operate your awning with the flick of a switch or remote control. For complete automation, you can schedule awnings to operate with Somfy® Connexoon. We offer integrated sun and wind sensors too.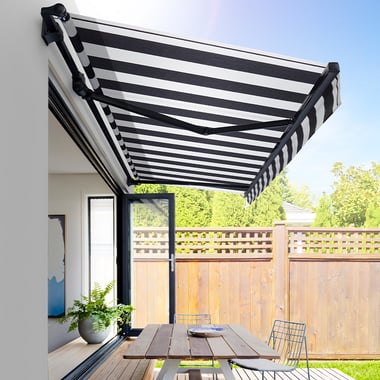 Feat. Kona Classic Awnings with gravel hardware.
Span up to 7m
For unrestricted views and shade, the robust retractable arms on a Kona Awning allow for maximum spans of seven metres in width and are capable of projecting up to four metres out from the building. This generous coverage requires no posts or other structures for support, maximising your freedom to enjoy the cover provided without inhibiting view.
Stringently tested
The Kona folding-arm range of awnings has been engineered to exceed stringent quality standards for peace of mind. The quality of an awning can often be derived by its wind rating, that's why our entire range benefits from thorough wind performance testing to meet European 13651 wind classification standards.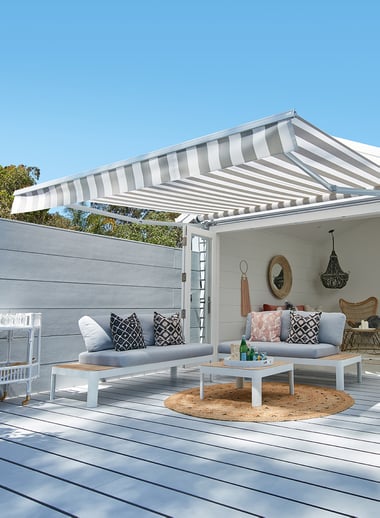 Feat. Kona Awning with a bold striped fabric.
Impressive stability and strength
Folding-arm awnings are usually either held taught by cable or chain. Unfortunately, these are typically made from either a plastic polymer that stretches over time or metal chains that tend to degrade when exposed to the elements, limiting the lifespan and performance of your awning. That's why our Kona Awnings make use of a Dyneema-tape that is 15 times stronger than steel and UV and is chemical and moisture resistant.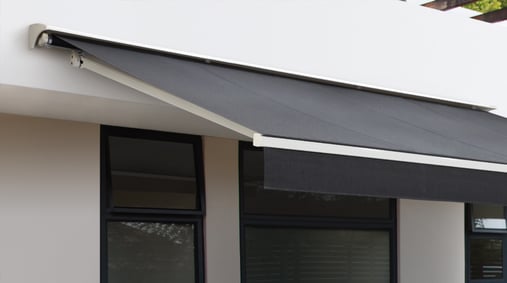 An optional Rain Hood provides improved protection for your awning from the elements.

Lots of fabrics to pick from
We offer over 280 colours to pick from in bold stripes, jacquards, and plain styling between our two fabric ranges.

Dickson® Orchestra marine-grade fabrics are our fabrics of choice when it comes to superior solar protection, guaranteeing excellent, long-term protection against our harsh UV rays, heat, glare and inclement weather.

Woven from 100% solution-dyed SUNACRYL acrylic, these exceptional quality fibres are solution-dyed, which means the colour pigments are incorporated during the actual manufacturing process, not afterwards, like most others. This means the colours stay truer for longer.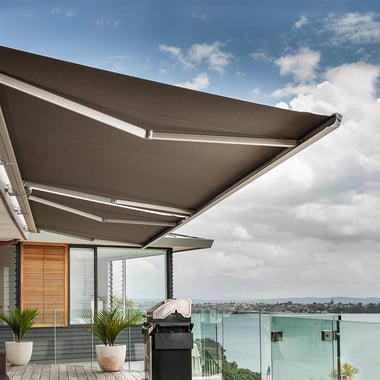 The fully enclosed Ultimo Full Cassette Awning offers an alternative to our Kona range.

Innovative extras
With optional extras developed specifically for New Zealand available with selected Kona models, you don't need to feel limited when it comes to your awnings adaptability.
Our exclusive add-ons include:
A roller valance built into the headrail for extra privacy/shading
Telescopic poles for stabilisation in windy conditions
Variable pitch control, from -5˚ to -40˚, so you can get the shade to your liking regardless of whether the sun is high or low
A rain hood to protect your awning from the elements and extend the life of the product.
Find out more or ask for a free quote
Do you want to know more about any of the unique Kona Awning features we have discussed above? Your friendly local Weathermaster team is here to help. Offering FREE measures, quotes and advice, you can find your nearest dealer and their details at the link below.